What Does it Mean to Defund the Police?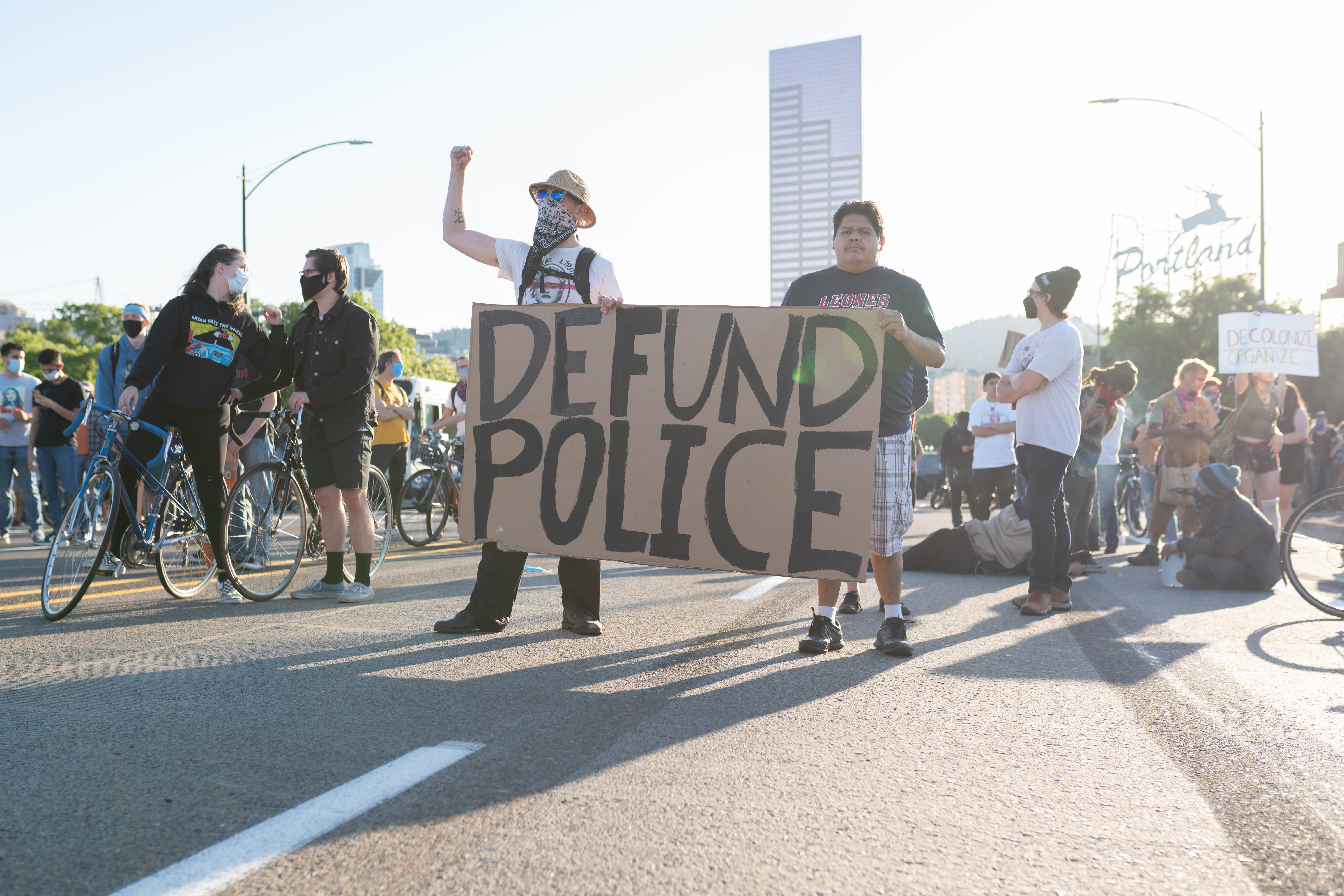 "Defund the police. No more cops. That's what they're fighting for." These were the words Fox News channel personality Tucker Carlson used on his show on June 2, 2020 in response to growing calls to shrink the budgets of municipal police departments. Carlson's alarmism, however, is a gross misrepresentation of calls to defund police forces. In the aftermath of the police killings of Breonna Taylor in Louisville, KY and George Floyd in Minneapolis, MN, the phrase "defund the police" has circulated rapidly in the national discourse, but there remains confusion about what this phrase actually means. Contrary to Carlson's warning of the lawlessness that would follow if there were suddenly "no more cops," what advocates of defunding the police are actually asking for is a gradual redistribution of municipal funding from police departments to other public services that would reduce the need for police intervention. From a reformist perspective, as Edward Ongweso, Jr. writes in VICE, this basically means "make police departments smaller and more accountable." For some scholars and activists, however, the end result of defunding the police is the abolition of the institution of policing as it currently exists, but only through a lengthy process of creating healthy communities in which the need for police is eliminated.
The idea is not new to those scholars and activists working in the area of criminal justice reform, though it has only recently entered the greater national consciousness during the most recent protests against police brutality and police killings of Black Americans and Latinos. One group currently at the forefront of the discussion is Black Lives Matter. Founded in 2013 by Alicia Garza, Patrisse Cullors, and Opal Tometi in response to the acquittal of George Zimmerman in the vigilante killing of Black teenager, Trayvon Martin, Black Lives Matter became a viral hashtag and rallying cry against the devaluation of Black lives evident in the lack of accountability for police and vigilantes who perpetrate acts of violence against Black communities.
The movement gained further traction following the 2014 killing of Michael Brown in Ferguson, MO by police officer Darren Wilson, which sparked weeks of protest in Ferguson and solidarity actions across the country. Though Black Lives Matter organizers have not ceased their work in the years since, the movement gained renewed momentum in the wake of several recent police and vigilante killings of Black persons, particularly Ahmaud Arbery, killed in February by vigilantes in Brunswick, GA, George Floyd, killed in Minneapolis, MN in May by police officer Derek Chauvin, and Breonna Taylor, killed in in March by Louisville police officers executing a no-knock warrant for a suspect already in custody at another location. Since the beginning of this most recent round of protests, there have been multiple police and vigilante shootings and killings of Black and Brown persons that have drawn further action from protesters.
In Austin, TX, Mike Ramos was shot and killed by police officer Christopher Taylor, and in Tucson, AZ, Carlos Lopez died in police custody due to the manner of restraint and cardiac arrest. In Gardena, CA, Los Angeles Sheriff's deputies shot and killed 18-year old Andres Guardado as he ran away from them, and in Phoenix, Ramon Lopez died in police custody after having hands and ankles restrained by three police officers and left lying face down on hot pavement for up to six minutes. The outside temperature that day was 99 degrees, and pavement temperature can reach up to 180 degrees. In Oakland, CA, California Highway Patrol officers fired approximately 40 rounds into the car of Erik Salgado, killing Salgado and injuring his pregnant girlfriend, causing her to lose her child. In Louisville, David McAtee was shot and killed when police officers and National Guard opened fire during a protest against the killings of George Floyd and Breonna Taylor. In, Kenosha, WI, police officer Rusten Shesky shot Jacob Blake seven times, leaving him paralyzed below the waist. During protests against the shooting, a 17-year-old armed pro-police vigilante opened fire, killing two protestors (both White) and injuring a third before walking past a police line unimpeded and fleeing to his home in Illinois.
George Floyd's death at the hands of the Minneapolis Police Department was especially galvanizing for protests against police brutality across the U.S., due largely to cellphone video captured by a bystander, which shows Chauvin kneeling on Floyd's neck for nearly nine minutes. In the video, Chauvin is seen brazenly looking at the camera with his hands in his pockets, suggesting both that he no longer viewed Floyd as a threat and that he believed that he would not be held accountable for his actions in spite of video evidence. The video also shows three other officers failing to intervene even as Floyd called out, "I can't breathe." These were the same dying words spoken in 2014 by Eric Garner as New York police officer Daniel Pantaleo held him in an illegal chokehold, also captured on video. Despite the video evidence in Garner's case, both a Staten Island grand jury and the U.S. Department of Justice, under the leadership of William Barr, declined to indict Pantaleo.
Proponents of defunding the police argue that the actions of officers such as Chauvin and Pantaleo show that efforts at reform have not stopped police from killing Black Americans and Latinos, who were in many cases unarmed. In a June 9 VICE article, Ongweso writes that a reformist campaign called "8 Can't Wait" calls for police departments to take eight immediate actions to address police brutality. In their demands are requirements for officers to attempt to deescalate situations, to warn suspects before shooting a firearm, and to intervene when another officer uses excessive force, as well as a ban on chokeholds. Critics of the 8 Can't Wait campaign argue that many cities have already implemented many of these policies to little effect. In New York, chokeholds were already banned when Pantaleo used a chokehold against Eric Garner. Warning before shooting policies were already in effect in Louisville when police shot Breonna Taylor eight times in her own bed, and in Cleveland, OH, when police officer Timothy Loehmann shot and killed 12-year-old Tamir Rice. Minneapolis had already implemented a duty-to-intervene policy before three officers stood by as Chauvin knelt on George Floyd's neck—Chauvin had already been the subject of 17 misconduct complaints.
In contrast to 8 Can't Wait, the abolitionist campaign 8 to Abolition proposes eight "non-reformist reforms" to "build toward a society without police or prisons, where communities are equipped to provide for their safety and wellbeing." The platform of 8 to Abolition includes such demands as the demilitarization of policing, the removal of police from schools, providing safe housing for everyone, and investment in community self-governance. Principal among their demands is the shrinking of police budgets and reallocation of those funds to services such as a full spectrum of healthcare, education, childcare and support for families, free and accessible public transit, access to food, and youth programming. Abolition is, in their view, "not only a matter of tearing down criminalizing systems such as police and prisons that shorten the lives of Black, brown, and poor people, but also a matter of building up life-sustaining systems that reduce, prevent, and better address harm."
In many large American cities, police funding accounts for a significant proportion and in some cases the largest share of municipal budgets. For instance, according to a 2017 study from the Center for Popular Democracy, in Oakland, CA in fiscal year 2017 the police budget accounted for 41.2% of the city's general fund. In Chicago, IL the number was 38.6%, in Minneapolis 35.8%, and in Houston, TX 35.0%. In Detroit, the police budget in 2017 was $310,200,000, amounting to 30.0% of the city's general fund. These numbers dwarf the amount of money dedicated to social programs in the U.S. Annie Lowery, writing for the Atlantic, states, "At all levels of government, the country spends roughly double on police, prisons, and courts what it spends on food stamps, welfare, and income supplements." Such funding disparities are in large part due to the shift toward punitive neoliberal economic policies instituted with increasing frequency in the years after the social movements of the 1960s. Disinvestment in public social services result from austerity measures from which police forces have been largely immune, even as rates of violent crime have decreased since the 1990s. Police unions play a significant role in resisting any reductions in police budgets, as well as in resisting efforts at reform.
Going into the 2020 election, politicians and the American public are divided on the notion of defunding the police. While members of the Democratic Party's progressive wing, such as New York Rep. Alexandria Ocasio-Cortez and Michigan Rep. Rashida Tlaib, support the movement to defund police, Democratic presidential nominee Joe Biden has instead proposed $300 million to support police reform, and Republican incumbent Donald Trump has derided the idea as a "fad." According to a Pew Research survey conducted between June 4 and June 10, 2020, a majority of Americans expressed support for the Black Lives Matter movement. Likewise, a July Gallup poll found that 58% of Americans agreed that major changes were needed in policing in the U.S., while only 6% felt that no changes were needed. Yet, in spite of this historic support for Black Lives Matter and police reform, according to the same Gallup poll only 47% of Americans support reducing police budgets and redistributing those funds to social programs, while only 15% of Americans support abolishing the police. Reporting the results of the poll, Steven Crabtree suggests the ambiguity surrounding the phrase "defund the police" may contribute to the lack of consensus, also noting that support for the idea is sharply divided along racial and partisan lines. In the face of the alarmism and misinformation sown by talking heads such as Tucker Carlson, a clear and reasoned understanding of what it would mean to defund the police may increase public support for a society in which public safety is maintained through a mix of social programs beyond just policing.