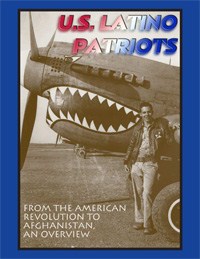 From the American Revolution to Afghanistan, An Overview
edited by Refugio I. Rochín and Lionel Fernandez, with the assistance of Jose Alonso Oliveros
This booklet, the first in the Julian Samora Research Institute's E-Book Series, seeks to inform a popular audience that there have been Latino Patriots in all major wars in United States history. Thus investigators interested in the history of patriots must consider the roles that Latinos have played.
Professors Refugio Rochín and Lionel Fernández consider theirs an exploratory work, for the topic has not been investigated in great depth. Rochín and Fernández emphasize the need for additional research and the creation of more archival and oral collections that document Latino participation in war, valor, and even the term "Latino Patriot" itself.
U.S. Latino Patriots complicates our understanding of Latino identity, evident in many of the stories related in this book. The "Latino Patriots" who receive attention in this work express a particularly strong identification with the nation.