A Latino Memoir: Exploring Identity, Family and the Common Good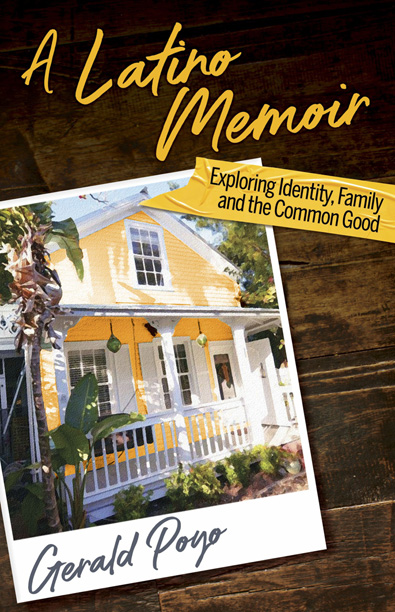 In A Latino Memoir, Geraldo Poyo traces his family's roots to Cuba while simultaneously analyzing the politics between Cuba and the U.S. in a context of colonization and racism. This book is more than a personal memoir of the struggles associated with being Cuban in America. It is a profound and well written account of the historical evolution of how the United States served as a colonizing power in the Western Hemisphere and the factors that led to the emergence of communist Cuba and the rise of Fidel Castro. Through Poyo's life we see how people are impacted by colonization, capitalism, and racism in the U.S. and beyond.
His story begins by recounting the lives of past Cuban generations in his family. To set the stage, he provides an overview of his experience traveling to Cuba to conduct fieldwork as a doctoral student. He discusses how individuals working in the archives were his distant relatives through Jose Dolores Poyo, who has a central part in the memoir because he is the earliest known relative and was a revolutionary who contributed to Cuba's independence against Spain. During the time of the insurgence Jose Dolores Poyo had two choices, continue fighting with the insurgence as an underground activist or fight for independence by choosing exile. He opted for exile and traveled by boat to Key West, Florida. Jose Dolores Poyo created La Yara, a revolutionary newspaper discussing issues such as labor rights and business ventures in the U.S., among many other concerns in the Cuban community. This is where the story begins of the migration of Poyo's descendants to the United States.
Poyo recounts his family's experience with the auto industry and American businesses. His grandfather, Francisco Poyo y Skillin, worked for American auto companies in Cuba, and this becomes another important aspect for understanding the development of identity. The grandfather is described as bicultural and bilingual, which points to the blending of Cuban and American cultures that Poyo's family experienced. He describes several instances where his great grandparents, father, and he dealt with Americanization. The settlement of Jose Dolores Poyo in Key West resulted in a process of acculturation by which English and American culture were passed down through the generations in both the U.S. and Cuba. This exposure to English and American culture served the Poyo family well as transitions into various locations in the U.S. occurred. Due to Poyo's grandfather's death his own father matured quickly and decided to attend the General Motors Institute where he would later meet his wife.
The author discusses how the move to America changed the family and addresses themes of race and belonging in America and capitalism. Poyo describes his father's experiences with racism in America by focusing on how his father was treated in the U.S. One powerful experience was due to having a Spanish surname and how this hindered his chances at employment even though phenotypically he looked White and was qualified for the positions which he applied. Not unlike other Spanish-speaking immigrants, these experiences prompted his father to actively seek assimilation into American society in the hope that it would make it easier for his family and him by reducing the amount of discrimination and promoting success. Poyo also recounts an racial incident that he experienced while in college when he tried to join a fraternity with another Latino friend who was of darker complexion. He describes how White fraternity members discriminated against his friend. These are just some of the many examples highlighted by the author regarding racism in American culture.
The theme of belonging runs throughout the entire memoir, as it arises in all the times Poyo's father, and later he himself, relocated to various countries. The author discusses the lack of sense of belonging by his father in the United States and how Cuba became a distant memory due to the search for economic progress after the passing of his grandfather. The author also addresses how moving to various Latin American countries, due to his father's employment with General Motors (GM), resulted in him developing a strong attachment to Argentina. As the memoir unfolds readers learn that Poyo returns with his family to the U.S due to economic crises in Latin America, particularly in Argentina. This move challenges his identity by exposing him to American racism. During his time in college and graduate school his awareness of racism grew more and more.
These college experiences not only increased Poyo's understanding of racism and influenced his feelings of belonging, but they exposed him to American colonialism and capitalism, which would later serve as the catalysts for his pursuit of a doctoral degree. In college he was exposed to the Civil Rights Movement and new historical information on the colonizing past of the United States and Europe. These gains in historical knowledge, coupled with the support of his college mentors, would propel him to seek a doctoral degree. When he traveled to Cuba to conduct field work, he arrived with a perspective shaped by the Civil Rights Movement, the war in Vietnam, and other notable events of the Sixties. He opposed capitalism and colonialism and viewed Cuba as a prime example of the social struggle for equality and equity through a socialist social order. However, after his arrival to Cuba he quickly learned of the inequities that characterized Cuba. This visit becomes a turning point for him which molds his scholarly work and his support for social justice.
Throughout this entire narrative the themes of racism, belonging, capitalism, Americanization, and family intertwine to produce a wonderful tribute to the Poyo legacy. This book adds a rich history of the United States and Cuba that will extend into the future. This piece of literature is for anyone who wants to learn about Cuban history and the role the U.S. plays in the history of that nation.