In Memoriam: Jesus "Chuy" Negrete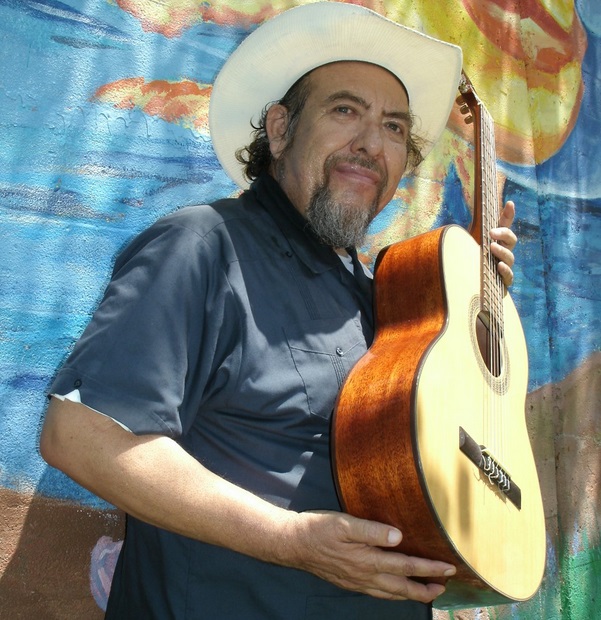 Renowned Chicano folksinger and educator Jesus "Chuy" Negrete passed away on May 27th, 2021 at the age of 72. Negrete was born in San Luis Potosí, Mexico in 1948. His father, Bernardo Negrete, had previously worked in the United States through the Bracero program, and in 1949 the whole family crossed the Rio Grande into Texas, settling in the Rio Grande Valley. By the age of three, Negrete was traveling north with his family to work as migrant farm laborers in places such as Des Moines and Muscatine, Iowa. At the age of seven, Negrete's family left the migrant stream to settle in South Chicago, where his father found a job at the Republic Steel mill.
Chuy graduated from Chicago Vocational High School before earning his Bachelor's degree in education from the University of Illinois at Chicago and his Master's degree in education from Chicago State University. He specialized in multicultural education and taught first in the Chicago Public School system and later at the University of Illinois at Chicago, Robert Morris College (later renamed Robert Morris University), Roosevelt University, and Indiana University Northwest.
As a researcher he engaged in a range of anthropological studies, including studies of prostitution along the U.S.-Mexico border, railroad laborers in Kansas City, Kansas, and at-risk Mexican American youth in his hometown of Chicago. Negrete received a prestigious Smithsonian Institution Fellowship to create the multimedia projects "Images of Mexican Labor" and "Mexican Women and Their Music." He was also the recipient of a Bannerman Fellowship in 1998, during which he studied non-Spanish-speaking indigenous Mexican farmworkers in North Carolina.
Negrete also lent his talents to the Chicano and labor movements through music and performance. Inspired by the work of Luis Valdez and El Teatro Campesino, a Chicana/o theater troupe that used performance in support of the United Farm Workers' organizing efforts, Negrete founded his own troupe, Teatro del Barrio, which included his sisters, Juanita, Santa, and Rosa. He performed many of the musical numbers for the troupe and through this developed his own interpretation of the Mexican corrido tradition, a topical folk ballad form often used to convey news or analyze historical events.
Negrete used his corridos to simultaneously entertain and compel his audiences to action. As he said in a 1980 interview with Rosa Linda Fregoso on the radio program, The Mexican American Experience, "If you can make people laugh and educate them at the same time, that's what I try to strive for. To laugh and to be politicized, to make them cry and be politicized." Negrete composed original corridos that covered Mexican and Mexican American history from pre-conquest to the present but was also skilled at reinterpreting others' songs to address current issues. As Founder and President of the Farm Labor Organizing Committee Baldemar Velazquez recalls:
I had … Chuy Negrete come down to the strike in Morgan Packing in the early '70s …. And Chuy was excellent at just taking any song and just making up lyrics as he was singing it. He would throw in verses about the people in that picket line and the barricade and the cops that came to arrest us. There were like a dozen federal marshals and over 100 uniformed deputies when they came in and arrested around 50 of us, and Chuy was singing the songs and just pumping up the people.
On September 12 of this year, Negrete's family held a celebration of his life at the National Museum of Mexican Art in Chicago. The venue was a fitting location to honor his legacy, as both the place where he first met his wife, Rita Rousseau, and as a vital cultural hub for Chicago's Mexican and Mexican American community. Among the presenters at the celebration was Jesus "Chuy" Garcia, formerly a Chicago City Council member and now a U.S. Representative for the State of Illinois, who concluded his remarks by promising to pursue immigration reform in Negrete's name: "We will remember Chuy Negrete, and we will say Que Viva Chuy Negrete!"
A Personal Remembrance from Julio Cesar Guerrero
Tears came to my eyes when I heard of Chuy's passing. Past the shock came the avalanche of memories, the sorrow of loss, then the search for consolation. I wondered why was I so deeply touched by the death of a non-relative to the point of tears? The reason was that Chuy was part of my life, of who I became as an adult. He touched my soul with his messages of Chicanismo through his performances. Something he did for an entire generation of activists singing corridos on university campuses, community meetings and Union rallies.
I met him in the '70s when I was organizing migrant farm workers in the Quad Cities about three hours west of Chicago, when he came through town with his theatre troop. Before meeting Chuy I was only an organizer. His street theatre skits spoke volumes about who we were as people and from then on, I felt empowered—I knew then I was a Chicano.