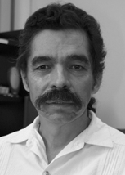 Dionicio (Dennis) Valdes
Dionicio (Dennis) Valdes taught history at Michigan State University until retirement. He is the author of Barrios Nortenos: St. Paul and Midwestern Mexican Communities in the Twentieth Century and Al Norte: Agricultural Workers in the Great Lakes Region, 1917-1970.
Dr. Valdes is one of the foremost historians of Chicano workers in the United States. Concentrating on the American Midwest, he has published extensively on issues of wage labor, land and exploitation.